Poseidonion Blog
Get a taste of our latest news!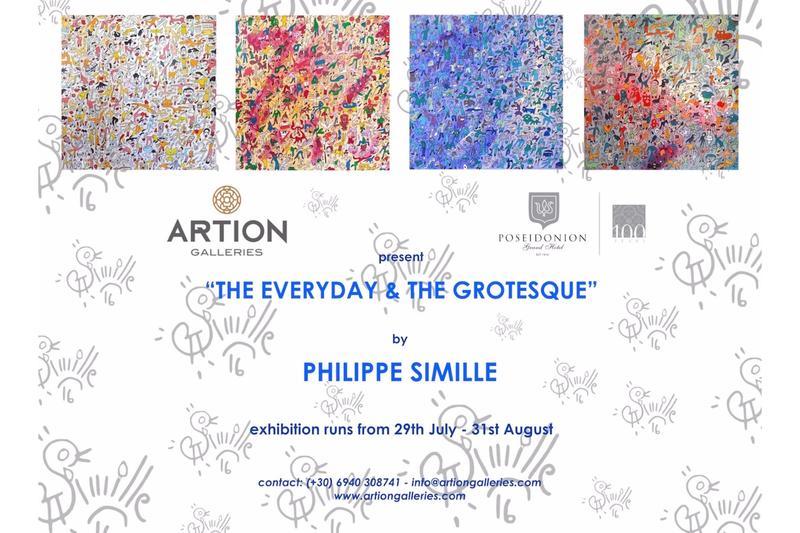 "The Everyday & The Grotesque" by Philippe Simille
Poseidonion Grand Hotel in collaboration with Artion Galleries, is pleased to invite you to the painting exhibition by French artist Philippe Simille,"The Everyday & the Grotesque," which will be on view from July 29th through August 31st at the Hotel's art gallery.

The exhibition "The Everyday & The Grotesque" highlights the latest work of the contemporary French artist Philippe Simille, known as a creator of raw art. This self-taught artist is unusual and his works are difficult to be classified. Their influence is altogether naive and traditional. He is a really talented colourist and his paintings are rich in colour variations, contrasts and harmony. Simille breaks with his past as an author and a composer. The rhythm and the cultural mix in his works are no coincidence: they remind us of the musician he once was in Montmartre where he lived for several years.

Simille's paintings are stories that investigate the kindness and cruelty of the everyday life. The numerous figures (human, animal, monster) and miscellaneous objects entertain and irritate the viewer. Widely inspired by actuality, those open windows on the world are also humorous with a touch of inquisitiveness, clear-sighted and sometimes harsh with the madness of humanity. Amongst many interesting aspects of his works, lets mention the density of the subject that contrasts with the harmony in the compositions and the amount of space around the numerous little figures and his way to invite the spectator to play his part as a storyteller and make up earthy stories out of funny stereotypes.

Simille paints images of a busy lively world of struggle and cruelty, though it is his humorous view on life and his "joie de vivre" that catch our attention. His artworks provide food for thought but without forgetting to entertain us.