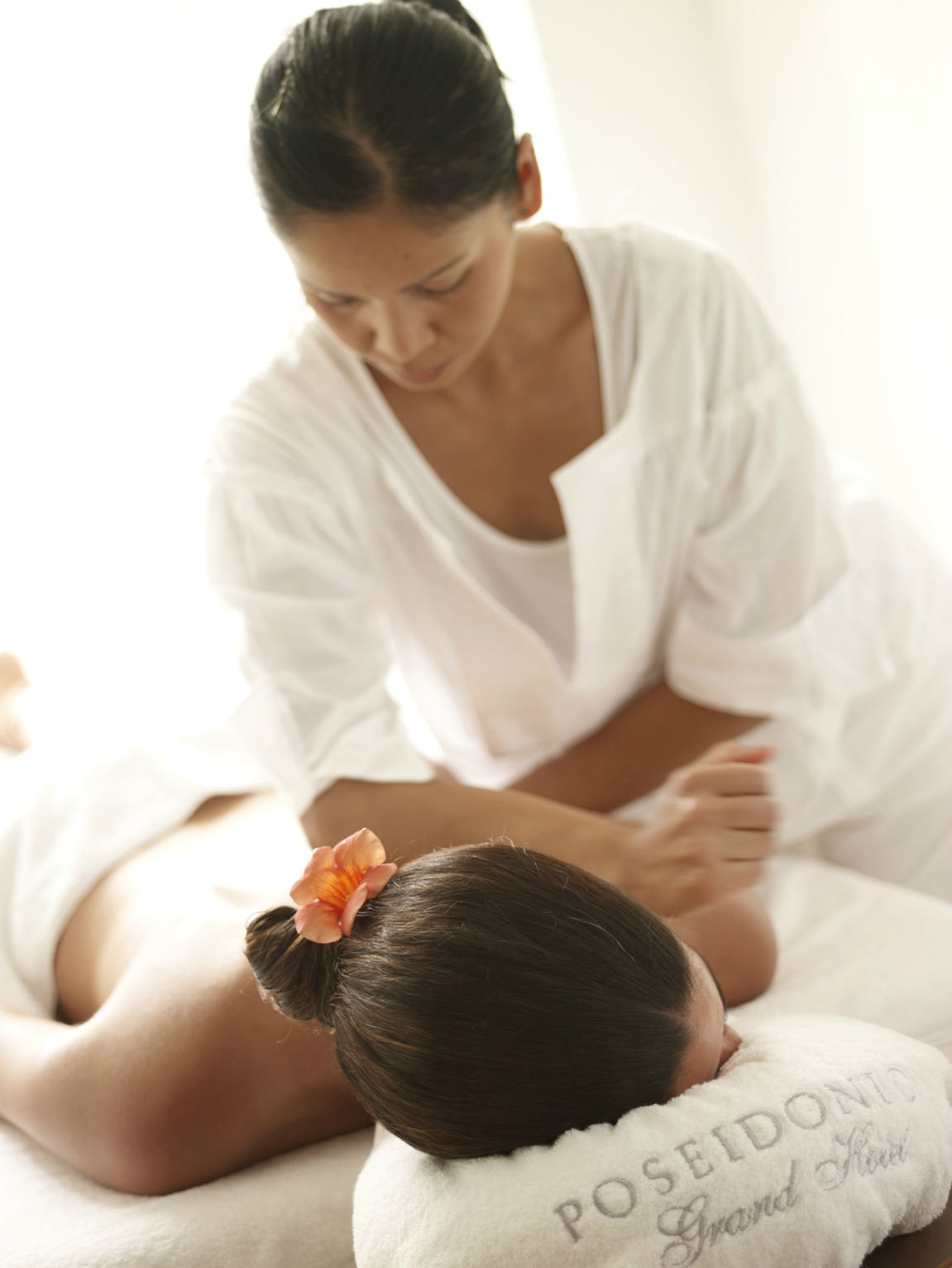 ASIAN SPA in POSEIDONION
More than a century ago the Poseidonion Grand Hotel became the first hotel in Greece to offer its guests spa services. Today we continue this tradition and invite you to experience the exceptional standards and luxurious treatments provided by the 'Asian Spa Resort', part of the prestigious 'Asian Spa Ayurvedic & City Retreat' Group.
Set in a beautiful Mediterranean garden, the spa pool is a haven of tranquility in which to relax and unwind. Inside the spa, highly skilled and experienced therapists provide fabulous spa treatments. The 5* services include massage, facials and body treatments, all provided in serene, elegant surroundings.
ILA treatments and products
The Asian Spa Resort, hosted by the Poseidonion Grand Hotel, has selected the best-awarded 100% organic ILA brand to master the unique feeling of the luxurious treatments provided, featuring the high quality of the services as well as stirring the emotions through their exceptional extracts, ultra-light texture and smooth touch.
ILA is a 100% organic brand that uses only the finest natural plant and mineral ingredients. Being wild-harvested in remote, untainted regions by artisan producers who value traditional, sustainable practices and by honoring the earth's most ancient and purest sources, the ingredients are treated as the ultimate gifts of nature by the ILA brand makers and are considered the essential part of a pure, no-compromise skin and body care.

Check our Asian Spa Resort's Menu and discover the treatments and massages that inspire your senses.
The Spa facilities include:
Massage Room
Steam Room
Pool
Hours of Operation
Seasonal Operation Hours: Monday to Sunday, 10.00 - 20.00
Asian Spa Resort at Poseidonion contact details:
Operation Hours: Monday to Sunday, 10.00 - 20.00
Telephone:+30 22980 74619
Email: poseidonion@asianspa.gr
Contact the Asian Spa Group central offices in Athens:
Address: 42 I. Karella Str. 15233 Halandri, Athens - Greece
Telephone: +30 211 4040115 / +30 210 7240119
Email: info@asianspa.gr
Spa_Menu_2019.pdf