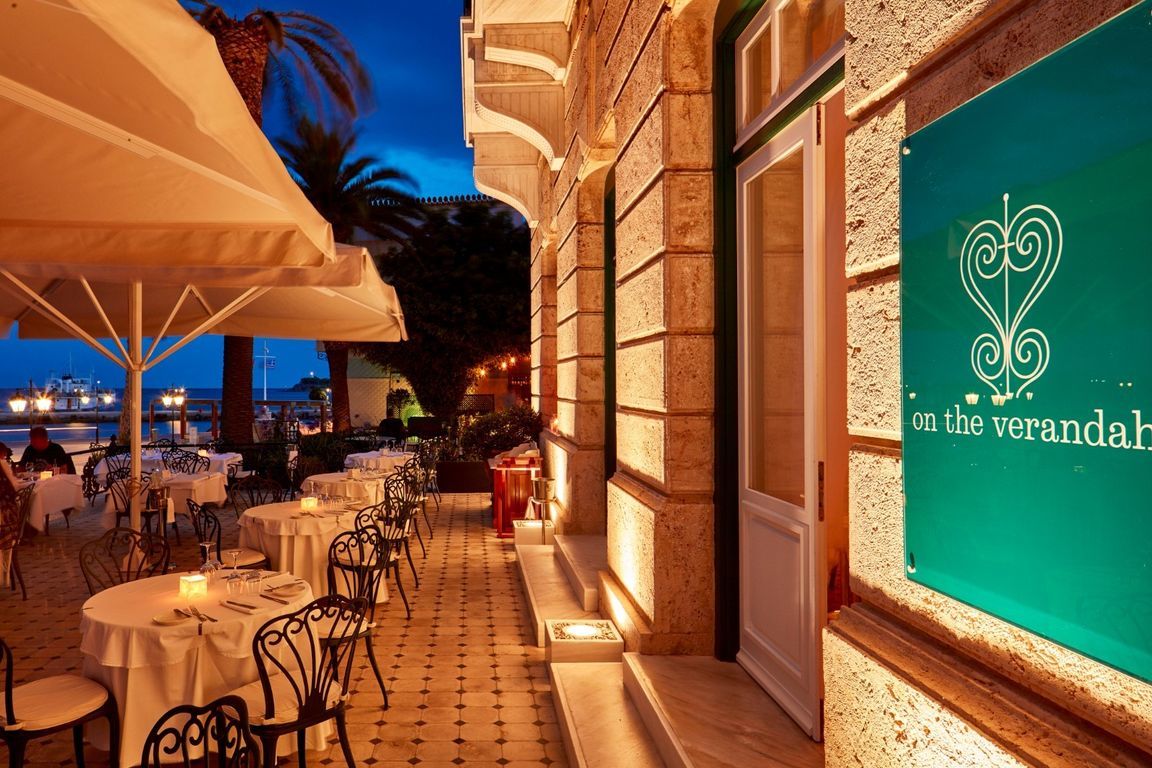 Dining On the Verandah
"On The Verandah", a winner for two consecutive years of the Greek Cuisine Award and the New Talented Chef Award for the restaurant's chef, Stamatis Marmarinos, offers creative contemporary Greek cuisine infused with local gastronomic traditions and ingredients.

The sea-front dining rooms are steeped in the old-world grace with soaring ceilings and soft curve-backed chairs that complement the wrought iron balustrades on the magnificent terrace. Soft lighting adds to the understated elegance, indoors and out, as the stunning setting both competes with and complements the superb cuisine. The perfect blend of food and setting is a great dining experience, a shared journey of culinary magic.
Take a moment to revel in the splendor of you surroundings as you sip an aperitif and choose from the menu, which rotates seasonally according to ensure ingredients of the highest quality and freshness. Fish and seafood have pride of place in island cuisine and the chef has added a contemporary twist to Spetses classics.
The Menu of Fragrances
Switch it up for dinner and treat your palate to the special On The Verandah degustation menu. Our Chef Stamatis Marmarinos and our sommelier have worked together to create special food and wine pairings for an extraordinary gastronomic evening that would impress even the most discerning gourmand. On The Verandah's wine list is culled from boutique wineries in the Peloponnese, Greece's preeminent winemaking region that is home to the white moschofilero and red aghiorgitiko varieties, as well as other Greek regions.
The four course or six course menu of fragrances offers guests a chance to sample these vintages with a selection of tasting dishes carefully selected to complement each wine's body and bouquet. Emphasis is on the aromatic herbs that impart their flavor to the soil in which the vines are grown. This singular experience is a more leisurely approach to fine dining that's ideal for a casual tête-à-tête under the stars or a less formal social occasion.

Special degustation menus will be available on the 29th and 30th of September. Afterwards, the restaurant will cease to operate as the 2017 season comes to an end.
Products from the Organic Farm
Saronic Gulf view
Reservations: +30 6957 507267, fbm@poseidonion.com

Check our reviews on Trip Advisor.
Menu.pdf
Vegeterian_Menu.pdf
Gluten_Free_Menu.pdf
Kids_Menu.pdf
Wine_List.pdf
Digestifs.pdf